TOS Review: PreScripts Cursive Letters and Coloring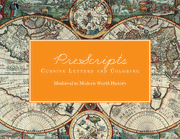 When given the opportunity to review Classical Conversations PreScripts Cursive Letters and Coloring, Medieval to Modern World History, I was hesitantly excited.

This was a book for River, age 4, to try out and review. As I've mentioned, River, like his brothers before him, does not like handwriting. He does like coloring as long as it's on his terms and he's content to trace letters, he just isn't happy to write them on his own. I really had no idea if he'd warm to this book, but loved the idea of trying something new.

PreScripts Cursive Letters and Coloring is a cursive handwriting book that combines letters skills with simple drawing pages (a spider, for example) and coloring pages depicting medieval to modern world history (Starry Night by Van Gogh). Sample pages from the book can be found here. My hope was that the variety would keep him interested and less focused on the book being a "handwriting" book.

As a bit of added "insurance", I had this book delivered to River at my sister's house in Dallas, TX while we were on vacation. His book coming to him at Aunt Kathy's house! Woo hoo. The book arrived at Aunt Kathy's and River was appropriately excited and ready to get started, so he could show Aunt Kathy his work while we were there.

Upon receiving the book River dove right in, completing the first six work pages at record speed - while I sat next to him to help him remember the directions (Ian also helped River with this during one of our long driving days ... not a bad car workbook). Page 7 was writing lowercase cursive a's ... River wasn't playing that game. As we moved forward he skipped most of the handwriting pages and did the coloring pages. Failure? No, he just isn't into writing right now. I did ask that he finger trace and then pencil trace the letters on each page, which he did. Success? Yes, we talked about cathedrals and their colors, different churches and why they look different, and Leonardo da Vinci. We'll go back to the handwriting in time.


goggles optional
I appreciate the diversity of activities in this book. I also like introducing cursive at a young age, if for no other reason than to put it in the back of their heads for when they're older. I wish they'd included more information with the historical coloring pages to teach the child as they do the coloring.
The softcover spiral bound book is in black and white and contains 119 8.5x11 pages, with one of the first pages being a full "how to use" page, which I found helpful.
PreScripts Cursive Letters and Coloring
was created with 3-7 year old's in mind, though I think slightly older children would enjoy it too. The book costs $11.99 and can be purchased at
Classical Conversations
.
Click to
read more reviews
from the Schoolhouse Review Crew.